Nepal Vision for Solar Greenhouses
I have a vision to bring low cost, appropriate regional technology, locally built and operated solar greenhouses to high altitude remote villages in the Nepal Himalayas. These greenhouses will allow local residents to grow fresh vegetables year round to expand their diet and thus their health and quality of life and provide business opportunities for supplementing incomes by selling vegetables locally.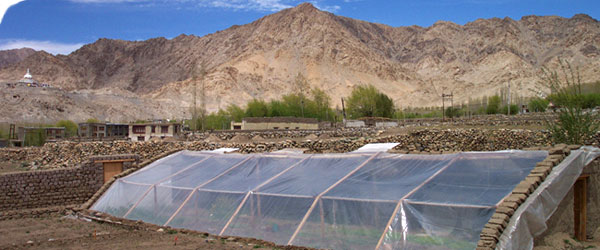 This vision has been growing over the last 1.5 years. The idea for my vision came from my last 2 trips to Tibet and Nepal in the Khumbu and Humla regions. I saw thousands of solar greenhouses in the Lhasa area and isolated villages throughout Tibet where fresh vegetables are grown year round. Similar solar greenhouses have been successfully introduced and perfected with 600 greenhouses built over 15 years in Ladakh, India (3500m elevation, -25degrees C) by the French non-profit GERES. These solar greenhouses can be easily adapted to the Nepal high altitude Himalayan climates. Ladakh manuals for greenhouse construction, running a greenhouse, and videos can be downloaded from Solar Green House.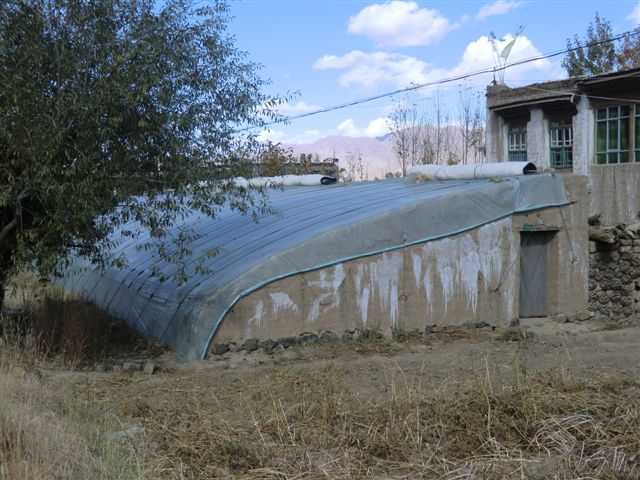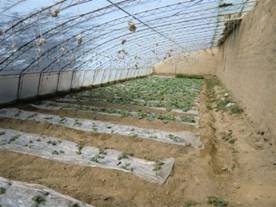 These pictures, from Tibet, utilize a different design which allows for a blanket to be rolled down at night for additional insulation.
I am semi-retired Stanford PhD (Civil Engineering), licensed Civil Engineer and General Contractor. I am currently working part-time as a green building consultant doing green building certifications in the San Francisco Bay Area. I designed and built a passive solar house with 2 attached greenhouses in 1982 in the heart of Silicon Valley, California, USA. I have access to some Silicon Valley technical support and possible funding.
I have talked with many of you during my October treks over the last 2 years and many have expressed interest in this vision. I am finally ready to kick off this vision. But to do this I must find local partners who are interested and willing to invest some of their time and resources to build a solar greenhouse with my guidance, assistance, and financial support. I am willing and available to provide whatever non-local materials are required (heavy transparent plastic, wood framing materials, monitoring equipment, etc.), I am hoping to collaborate with the following non-profits: The Nepal Trust, International Center for Integrated Mountain Development, GERES India, American Himalayan Foundation, Sir Edmund Hillary Foundation, Italian High Altitude Scientific and Technological Research Station evk2cnr, Tribhuvan University Institute of Engineering Center for Energy Studies, and other local scientific, technical, and governmental organizations.
I plan to come to Kathmandu and the Humla and Khumbu regions in mid-April to kick off this vision and find my first local partners. If all goes well, I might bring some non-local materials from Kathmandu so we could start building the first 1 or 2 greenhouses in the Khumbu and Humla regions. I also hope to visit the GERES greenhouse project in the Mustang region and possibly the GERES Ladakh project in India to learn more about their experience. If you are seriously interested in being part of this vision for Nepal in any way, please visit my website for more detailed information and contact me as soon as possible so that I can arrange to meet with you on my upcoming trip in April.
If you are a guest house owner, a school, a clinic, a monastery, a local village organization or local resident who has access to about 40 square meters (4mx10m) of south facing land with unobstructed solar access and might be interested in building a greenhouse, please contact me.
If you are an NGO with a local presence in Nepal or India that might be interested in collaborating with me either on funding, technical support, logistical support, or local support contacts, please contact me.
If you are a technical or scientific organization or local, regional, or national government organization that might have design data or information, established programs, or expertise and might be interested in collaborating with me, please contact me.
My goal is to have at least 4 (preferably more) greenhouses built and operating by October 2012 in villages at different elevations in both the Humla and SolukKhumbu districts. This will allow us to gain valuable experience in how the solar greenhouses perform in different climate and elevation regimes. Based on this experience, we can make appropriate modifications to improve the performance for future solar greenhouses that will be built next year. If we can finalize agreements for at least 4 sites during my April trip, I will arrange to have plastic and other non-local materials delivered from Kathmandu to the local sites.

Tom Wagner
Green Building Associates

Please use below form to contact me about Nepal: